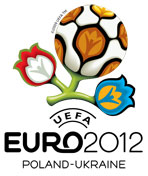 The Golden Boot is awarded to the player that scores the most goals in the tournament. As you can see below some of the previous winners of this award include superstars like Villa, Kluiver, Van Basten and many others. It's a good chance that whomever wins it will be from one of the top nations as they tend to go further which means they play more games so they can score more goals. Every team will play at least 3 games and no more then 6 games. That being said upsets do happen so depending on the odds it might be worth it to bet on an underdog as well one of the favorites. Gomez, Llorente, Huntelaar and Torres are some of my favorites.
Below are the bookmakers favorites to win the Euro 2012 Golden Boot Award.
Top 3 According to Bookmakers:
Mario Gomez - 9/1
The clear favorite to be the top scorer at Euro 2012. During qualification he only started in four games but was able to score six goals in five games. He also has so many great players to support him it's easy to see why he's the clear cut favorite.
Robin Van Persie - 11/1
Van Persie had a great 2011 scoring 37 goals in 47 appearances for Arsenal but he continues to struggle in international play. He also tends to get hurt often. He could win this but at 11/1 you might want to look elsewhere.
Cristiano Ronaldo - 15/1
Cristiano Ronaldo is another favorite for good reason. He scored an impressive seven goals in eight qualification games and he has been outstanding with his club team. The only issue for him os the fact that Portugal ended up in the same group as the Germans and the Dutch.
Others Contenders:
Fernando Llorente - 17/1
Miroslav Klose - 17/1
Karim Benzema - 19/1
Klaas-Jan Huntelaar - 19/1
Fernando Torres - 21/1
Roberto Soldado - 21/1
Lukas Podolski - 26/1
Mario Balotelli - 26/1
Thomas Muller - 26/1
Another factor you should consider is the grouping. Stronger groups will have less scoring during that stage so maybe you want to bet on a player from a strong team in a weaker group because each team plays one game against each team in their group.
While some players might score many goals with their club teams they don't always transfer those goals at the international level. This is due to players not being able to play the same system as their club teams. Some nations have an attacking style of play while others are more passive style content to sit on a 1-0 lead.
The last thing to consider is if a player takes many free kicks. This award is always so close and this factor alone can win it for a player.
Past Golden Boot Winners:
| | | |
| --- | --- | --- |
| 2008 | David Villa | 4 Goals |
| 2004 | Milan Baros | 5 Goals |
| 2000 | Patrick Kluivert/Savo Milosevic | 5 Goals |
| 1996 | Alan Shearer | 5 Goals |
| 1992 | Split 4 Ways | 3 Goals |
| 1988 | Marco Van Basten | 5 Goals |
| 1984 | Michel Platini | 9 Goals |