On June 8, 2012 the long awaited 2012 UEFA European Football Championship will begin in Poland and the Ukraine. Keep reading for more information, or use the links below to jump to that section.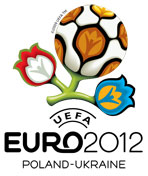 The Groups:
The group draw was held in Kyiv, Ukraine on December 2nd and in as usual some countries were happy while others would have preferred an easier group.
Group A includes Greece, Russia, Czech Republic and Poland. Probably the easiest of the groups as it has no traditional football superpowers but that doesn't mean this will be a cake walk. Greece has had success in this tournament in the past. Russia and the Czechs have all been slowly getting better and could surprise people. Poland is hands down the weakest in this group and will need their fans if they have any chance of coming out of this group in tact.
Group B is easily the group of death with Germany, Netherlands, Portugal and Denmark grouped together. You have two of the top five teams in the tournament in the same group. Then on top of that you include Portugal and Denmark and you get the group of death. Three of these four countries are considered to be some of the best teams in Europe and the Danish are getting better every year. One of the two teams that come out of this group will probably win the tournament.
Group C has Euro 2008 champions Spain against Italy, Croatia, and the Republic of Ireland. Another very tough group with the returning champions. Yes Spain the the favorites but they have not been playing good as of late. Ireland on the other hand has been playing great and could surprise many in this group. Expect Spain to advance but the second team is really a coin flip between the other three teams.
Group D has England, France, Sweden, and Ukraine pitted against each other. The French and English should get through this group but don't count out Sweden. They have a history of beating England in international competition. Ukraine does have home field advantage but it probably won't be enough to get them through to the next stage.
The Venues:
This is the first time either country has hosted this prestigious tournament, but it won't be the first time two countries co-hosted it. In 2000 Belgium and Netherlands co-hosted and in 2008 Austria and Switzerland co-hosted the European Championship. Fifty one nations entered this tournament and only the top sixteen remain, Poland and Ukraine qualify as host nations. Four cites in each country will be hosting Euro 2012 matches.
Poland
Warsaw
National Stadium
Capacity: 58,000
3 matches in Group A stage
Gdansk
PGE Arena
Capacity: 40,000
3 matches in Group C stage
Wroclaw
Municipal Stadium
Capacity: 40,000
3 matches in Group A stage
Poznan
Municipal Stadium
Capacity: 42,000
3 matches in Group C stage
Ukraine
Kiev
Olympic Stadium
Capacity: 68,000
3 matches in Group D stage
Donetsk
Donbass Arena
Capacity: 50,000
3 matches in Group D stage
Kharkiv
Metalist Stadium
Capacity: 38,000
3 matches in Group B stage
Lviv
Arena Lviv
Capacity: 35,000
3 matches in Group B stage
Upsets:
The European Championship does have a history of upsets. Greece did it only 2 tournaments ago back in 2004, and in 1992 the Danish team beat a strong German team to win it's first European Championship. This tournament is short so if a team can put together a few good matches in a row the can go far if not win it all. This is one of those tournaments where betting some weaker teams might be a good bet.
The Favorites:
Spain and Germany are looking like the teams to beat in 2012. Spain is the current Euro champion and current world cup champion. Germany may not have the recent championships that Spain has but they do have a roster of some of the best young players on the planet let alone Europe. Bookmakers have Spain as the slight favorite but many experts including myself believe Germany is the real favorite now that Villa is out for the entire tournament.
Top Goalkeepers:
Iker Casillas (Spain)
With 120+ appearances in international football the experienced Real Madrid Goalkeeper is hands down the best Spanish keeper of all time.
Gianluigi Buffon (Italy)
This could be the last international tournament for Buffon, if it is you can bet he won't go down without a fight. Ranked among the worlds top keepers for more then a decade Buffon will be ready and able when the games begin.
Petr Cech (Czech Republic)
Chelsea's superstar goalkeeper just won the Champions League via a penalty shoot-out. In case you missed it, it was amazing to see. He has almost 90 appearances in international matches and should be one of the more dominate keepers in Poland/Ukraine.
Average Odds:
Below are the average odds taken from seven different bookmakers. As you can see Germany and Spain are the clear favorites with the Dutch not far behind. Denmark at 90-1 looks appealing as well as Croatia at 50-1. Russia sitting in the easy group at 23-1 also looks interesting. Some very nice odds on the weaker teams.
Spain: 3.72/1
Germany: 3.96/1
Netherlands: 7.64/1
England: 11.56/1
France: 12.10/1
Italy: 13.79/1
Portugal: 18.54/1
Russia: 23.42/1
Ukraine: 45.47/1
Poland: 46.89/1
Croatia: 50.21/1
Sweden: 64.33/1
Czech Republic: 65.56/1
Greece: 81.68/1
Ireland: 88.56/1
Denmark: 90.10/1
Previous European Championship Winners
Germany: 3 Wins
France: 2 Wins
Spain: 2 Wins
Czech Republic: 1 Win
Denmark: 1 Win
Greece: 1 Win
Italy: 1 Win
Netherlands: 1 Win
Russia: 1 Win